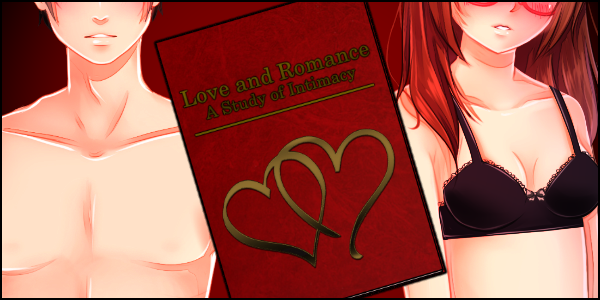 Love and Romance - A Study of Intimacy
A downloadable otome for Windows, macOS, and Linux
Love and Romance - A Study of Intimacy
Amelia Waters is a brilliant 26-year-old romance writer who, after years of hard dedication and work, became the top romance novelist of the millennium. However, she has always felt that something was wrong with her writing and, after reading her books again, she finally found out what it was: the sex scenes were garbage. In need to fix this issue, Amelia talks to her manager and agent, Lee Yoon Ho, and asks for help. He manages to grab keys to a cabin, isolated from society, and takes her there for a week to help her get her head in the game and and for her to practice writing about sex.
When she hits a brick wall, Lee offers to help her again... with his body.
---
CHARACTERS:
Amelia Waters (CV: YOU)
A successful 26-year-old writer who lives in a shabby apartment with her cat. While in front of her laptop, she paints beautiful pictures of love and romance of all spectrums. What halts her from being the absolute best are her sex scenes, which are robotic and redundant. With a sense of determination and a 4-year-old dry spell, she is determined to make her sex scenes better somehow!
Lee Yoon Ho (CV: David O'Byron)
Amelia's manager and agent. Formerly a model, he left the business to help others become successful. When he found Amelia, he took her under his wing and became the gateway to her success. Hard-working and open, he helps Amelia in every way to guide her to complete success because he believes she deserves it. What he didn't expect was to fall in love...
MINOR CHARACTERS:
Sir Gerald (CV: Michael Potok)
A side character from Amelia's best novel, Knights of the Heavenly Blade. Deeply in love with his princess, Jasmina, he becomes one of Amelia's guinea pigs for her sex writing practice.
Princess Jasmina (CV: Michaela Laws)
A side character from Amelia's best novel, Knights of the Heavenly Blade. Innocent, pure, and in deep love with her knight, Gerald, she becomes Gerald's partner in Amelia's sex writing practice.
---
FEATURES:
-FREE TO PLAY
-1 Romance Option
-1 Romance End, and 1 Non-Romance End
-Original Art and GUI
-2 Intimate Scenes, 2 Sex Scenes, all four COMPLETELY OPTIONAL
-A literal study on intimacy and practice of sex writing.
-Emphasis on Consent
---
CREATIVE TEAM:
Writer/GUI Designer/Programmer - Michaela Laws
Sprite/CG Artist - WaffleMeido
BG Arist - GlassHeart
Music by Kevin Macleod
---
A Note From The Director:
Hi! Michaela here. It's been a long time coming but I finally mustered the courage to step into the NSFW world and create an otome with full on sex scenes. However, the point of the VN is not about having sex; it's about teaching and describing positive and consensual sex. As I touched on the idea in Seduce Me, I wanted to build a story around the idea that you can be in love with someone and not have to engage in sex to be happy. At the same time, I want the idea of sex in stories with romance to be as loving as it can be. Too many stories revolve around coerced or non-consensual sex that the idea of sex has now become about the pleasure and carnal feelings of it when sex is and can be the binding of two bodies in an intimate dance of passion, love, and fondness.
This VN will be NSFW because of the 2 explicit sex scenes, but it will be free to download and play because of the message I want to portray. During the mentioned sex scenes and the 1 intimate scene before them, however, the player will have the option to stop the scenes at any time, as part of my emphasis on consent. While the scenes themselves are positive and meant to be engaging and beautiful, the power is within the player's hand to continue depending on their comfort. There is no punishment for not engaging or stopping action in these scenes and I want to make that clear that it is okay to do the same in reality.
We hope that the final product will be to everyone's liking and we are honored to be part of this game jam =)
~Michaela
| | |
| --- | --- |
| Status | Released |
| Platforms | Windows, macOS, Linux |
| Rating | |
| Author | Michaela Laws |
| Genre | Simulation, Educational |
| Tags | Dating Sim, NSFW, Otome, Romance, sex, sexual-content, Short, Story Rich |
| Average session | A few seconds |
Download
Click download now to get access to the following files:
Love And Romance - A Story Of Intimacy (All OS Build)
64 MB
Love And Romance - A Story Of Intimacy (Windows Build)
48 MB
Love And Romance - A Story Of Intimacy (Mac Build)
46 MB
Love And Romance - A Story Of Intimacy (Linux Build)
50 MB